Become a member of the International Association!
---
in our twin site taichi.do
---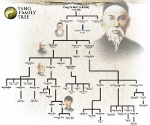 Our Masters
We practice Taijiquan following the method of masters Yang Zhenduo (4th Generation Yang Family, 3rd son of Yang Chengfu) and Yang Jun (6th generation Yang family, grandson of Yang Zhenduo, and Yang Family Tai Chi Chuan 5th Generation lineage Holder).

YCF Centres in Italy / For more info: yangfamilytaichi.com
---
Our classes
Firenze's Yang Chengfu Center - Schedules
Enrollment is possible all year long
---
Instructors of our center
The classes are taught by Roberta Lazzeri with the help of the certified instructors Brunetto Cortigiani, Emilia De Giuli, Valentina Marinai, and the Assistant Instructors Lorenzo Sordi, and of the Assistant Instructors in apprenticeship Valentina Argentini, Michela Donati, Federico Frittelli, Silvia Rossi and Teresa Scavetta.
---
Highlights
---
About us
---
Find us also
Use Google Chrome or Mozilla Firefox, or "at least" IE version 7.