anti-sexist
anti-fascist
anti-racist

---
---
in our twin site taichi.do
---
My First Tai Chi Chuan Teacher
Dr Nguyen Van Nghi was my first mentor. I was studying acupuncture under his instruction at his school in Florence. As you may know, he was one of the best known masters of Traditional Chinese Medicine in the world. The doctor focused on not only the classroom material, but also martial arts. He and his students all practiced martial arts, especially taijiquan. He merged theories of Chinese Medicine with the theories of energy as utilized by most martial arts. I am urologist who was fascinated by this holistic approach to healing.
So I started my search and encouraged my twin sister Roberta to start practicing as well. Initially, I encountered many different kinds of tai chi styles. For example, the first kind was tai chi Taoist. I was looking for something that was more dynamic and focused on balance. Next, I encountered a Yang style school that taught the 24 form of Beijing. I liked this style, but more than anything, I enjoyed working with my instructor, Daniele. He was a sincere and skilled instructor who inspired me to continue with tai chi. This would have been good for me, but I wanted to learn the long form.
Meanwhile, my sister was practicing at the Yang Chen Fu Center in Milan. I had the possibility of observing the long form with her there. I took some seminars with the 49 form and push hands.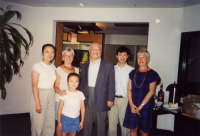 That summer I had the opportunity to go to Seattle and yes!, my search was finally over. I found the style and mentor who complemented my spirit: Yang Jun.
That summer I was lucky to informally meet Yang Zhenduo at a farewell party in Seattle. It was an emotional moment and I felt touched by his presence. My sister and I went to China in summer 2002 and practiced tai chi with the Masters Yang Zhenduo and Yang Jun.
(Vera, 25/2/2004)