anti-sexist
anti-fascist
anti-racist

---
---
in our twin site taichi.do
---
China memories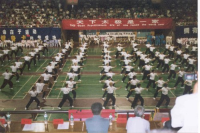 I like Taijiquan , and after our summer trip to China, I like Taijiquan even more. I feel very close to Taijiquan and it really happened by chance. I decided to try it to increase my muscle elasticity when I was in my late forties. When I encountered Yang Zhenduo/Yang Jun Taijiquan, I was invigorated! This is for me, I thought!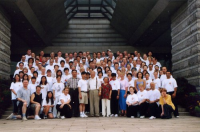 Then, I had the opportunity to go to China and participate in a tournament! It was wonderful! The trip to China was incredible for me. It was energizing as I could meet people from all over the world. It was lovely to see us performing in the same style, as we were from the same school. Perhaps, I couldn't understand everything that Bill and Dave said, but I could understand what they were performing. I like this feeling since this is the way to promote peace among people by better understanding each other.
In particular, I enjoyed 'Yang Zhenduo's thought, "We need to understand that regardless of how you look at it, all Taiji pratictioners are of one family. It should not be as it was in the past when people were suspicious of each other and would create trouble. This is not good."
On my way to TJQ, I encountered many people with narrow thinking, but at last, I encountered the International Yang Style Tai Chi Chuan Asociation.
I know that every person can put some of his own 'hyak' in his interpretation of Taiji.
This is only human. However, belonging to a school with a standardized training system allows us to stay with the original form and to develop it through a constant supervision.
There are two main reasons why I chose Yang Zhenduo/Yang Jun Taijiquan.
First of all, I like open-minded people, and, maybe even more importantly, I distrust close-minded people. Only very open-minded people can understand new and differing thoughts. These people would develop their own theories while confronting something new. They are challenged by contradictions and comparisons. Secondly, a standardized system allows us to improve in the style all together in many countries throughout the world.
How could I stand not practicing this kind of Taijiquan in my city, Florence? All kinds of Taijiquan are good, but I like this one and I want to continue practicing it!
How could I stand that my own twin can't practice this wonderful style all week and can't perform in international tournaments?
I couldn't and we couldn't.
We started a practice group of 'this style' of Taijiquan in Florence. We started with some friends, and then we advertised, promoted and now, we are ten students practicing together regularly. (A small number? I don't think so! It is enough for starting!) We practice every week, and in addition, we are supported by a higher level Taijiquan practicioner once a month.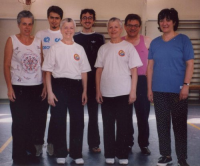 Our group (can you tell our age from the picture?) gathers mainly for health purposes, but now some younger students have joined us.
The trip to China gave us the will to start a practice group and also inspired the name for our association. It is the Chinese word that we heard most often: Shuāngbāotāi (twins in Chinese).
We very much enjoyed seeing the gorgeous Chinese places and to meet Chinese people. We were pushed to improve our knowledge of Chinese culture, and mainly for Vera (the medical doctor), Traditional Chinese Medicine, that she has been practicing for many years.
The trip was also a great oportunity to meet up with the friends that we knew in Seattle and update our friendship (we miss Seattle and, now, we miss China!)
We are very glad to have been in China and to have met more members of the Taijiquan family. Now, we hope to contribute to developing the cause of Taijiquan and returning to China in 2007 with a Florentine group.
(Roberta, 3/4/2003)